The UAE Announces Merit-Based Citizenship for Investors and Professionals
In a historic announcement on HH Sheikh Mohammed bin Rashid al Maktoum, Vice-President and Prime Minister of the UAE and Ruler of Dubai announced that the UAE will be granting Emirati citizenship to "investors, specialized talents, and professionals including scientists, doctors, engineers, artists, authors, and their families".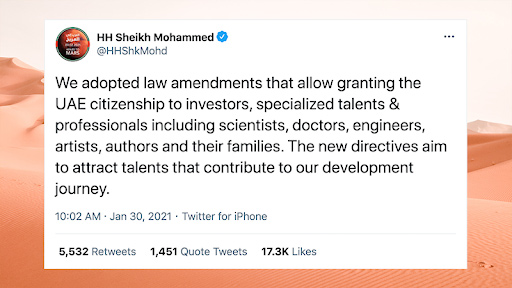 On January 30, HH Sheik Mohammed tweeted "We adopted law amendments that allow granting the UAE citizenship to investors, specialized talents & professionals including scientists, doctors, engineers, artists, authors, and their families. The new directives aim to attract talents that contribute to our development journey."
This makes the UAE the first Gulf Arab nation to formalize a process aimed at giving expatriates a bigger stake in the economy.
Although stock markets in Dubai and Abu Dhabi largely shrugged off the move - UAE-based political and economic specialists have framed the announcement as the latest example of the UAE's trailblazing policies, designed to support its ambitious growth and future development plans.
The UAE directive aims to attract specialized talent and skilled professionals to the Emirati community so that they can contribute to the development and prosperity of the country. The UAE cabinet, local Emiri courts, and executive councils will nominate eligible candidates based on their ability to meet the specified criteria for each category.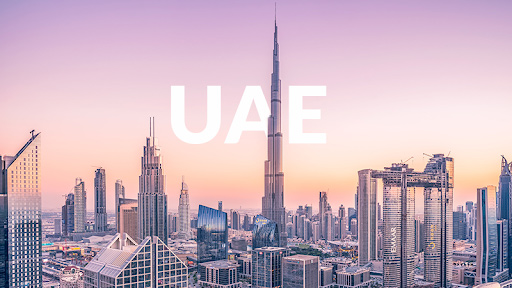 Here are some criteria for the various areas of expertise required for naturalization under the revised law:
Investors: Applicants for Emirati citizenship by investment must own a property in the UAE, the value of which has not yet been explicitly stated;
Doctors: Applicants who are doctors must be specialized in a discipline highly required in the UAE and have practical experience of at least 10 years. They must also be a member of a reputable organization in their field of specialization and have made valuable scientific contributions to their field;
Scientists: Applicants and professional scientists must be active researchers in a university or research center in the private sector, with at least 10 years of experience. They are required to have made valuable contributions in their field, secured substantial funding for their research, and/or have won a prestigious scientific award;
Inventors: Applicants who are also inventors must have one or more patents approved by the Ministry of Economy or another reputable international body;
Creatives: In order to apply as a 'creative', intellectuals and artists should be pioneers in their field of culture and art and are required to have won one or more international awards.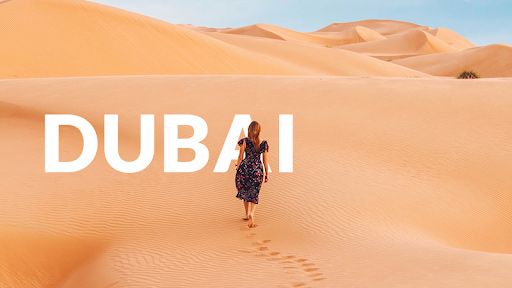 he new policy does not amount to a citizenship by investment program because its stipulations are not tied to applicants owning property of a clearly specified amount, as most all CIPs are. The UAE's citizenship policy would be more appropriately compared to discretionary or merit-based naturalizations, tied to highly subjective determinations by UAE officials.
Those who will be granted Emirati citizenship will also be allowed to keep their existing citizenship, according to the new law. However, it had not been made immediately clear whether those who will be bestowed citizenship would have the full rights and benefits of people born Emirati.
For more information on the requirements and application procedures, please contact a Global Pass consultant.